You know what would be perfect to receive or give for Christmas? That's right, my lovelies! A poetry book.

Might I make a couple suggestions?

There's Swimming in the Wild, Wide Ocean, Seasons of Verse: 1989-2009, a collection of poetry by Amanda Caldwell (hey, that's me!):

"Swim free from me / from this pool out into the / wild, wide ocean." These collected works span twenty years of Amanda Caldwell's poetry, from the tasks of school to the allures of nature, from the joy of married love to the grief of loss, from the first steps of parenthood to the rocky journey of faith. Arranged by season, the poems bring the reader full circle through a representative year of blessings, challenges, and transitions.

Buy it here at CreateSpace or here through Amazon
. Shipping for a single item is cheaper through CreateSpace, but slower. If you want it to arrive in time for Christmas, opt for Amazon and free, holiday-guaranteed Super Saver Shipping if you order by Dec. 17. Here are all the Christmas ordering deadlines
for Amazon. You can have books sent to yourself or to a gift address.

Amazon will also allow you to look inside the book for a sneak peek.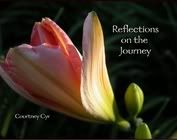 Another even lovelier volume is Courtney Cyr's Reflections on the Journey, which combines her poetry of healing and faith with her gorgeous macrophotography of nature.

Reflections on the Journey is a collection of poetry and photography by artist Courtney Cyr. While the pictures capture the beauty of nature across the changing seasons, the poems reflect the artist's own journey to heal, change, and understand her place in this life. Includes 37 full-color photographs and 16 original poems.

You can click on Preview from the book's page on Lulu.com and, you know, preview it. It's really astonishingly beautiful and would be such a meaningful gift for: poetry lovers, nature lovers, beloved mothers, artistic types, people with strong faith, people with weak faith, people going through seasons of healing, and people who need to go through a season of healing.

Priority Shipping on Lulu.com will get it to you in time for Christmas joy and is not too expensive (I know because I just bought myself a few to give!), so go for it.

ETA: Here's the link to buy Reflections on the Journey on Amazon
! See Courtney's comment for shipping info.