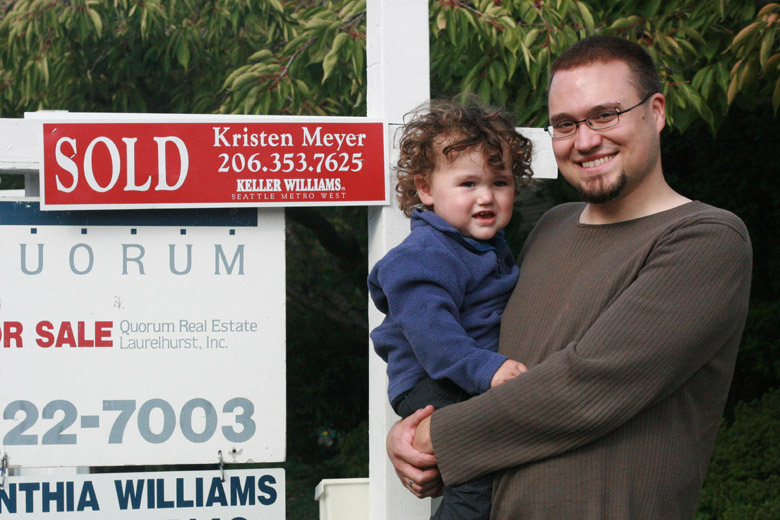 I meant to post this back during all our house-buying hoopla and searched for it on various humor sites but couldn't find it. Well, hooray for cleaning out my hard drive, because I found it saved as a PDF in an obscure folder.

I bring you, via SatireWire:

RECORD 75 MILLION AMERICANS NOW PRETENDING THEY OWN THEIR OWN HOMES


Showing no ill effects from a weak economy, housing numbers released by the National Association of Realtors today showed that a record 75 million Americans are now participating in the mass self-delusion that they, and not their banks, actually own their homes.

...



After putting 20 percent down on a $235,000 house yesterday morning, Minneapolis pediatric nurse Stephanie Doogan officially became the 75 millionth American to take part in the widely accepted fantasy.

"Ever since I was a little girl, I've wanted to (deceive myself into believing I could) be a homeowner," said Doogan, 35. "Well, look at me now! Me, little Stephanie Doogan, I actually have a place I can call 100 percent (minus 80 percent) my own!"


...

"There's nothing like taking a walk around your (bank-owned) house, then going outside and kneeling down in your (bank-owned) lawn and grabbing a handful of (the bank's) dirt to make you realize how precious (their) land is," said 28-year-old Matt Jackson....


Added Devon Knight, who recently thinks he purchased a condominium in Baltimore's Inner Harbor: "When I was renting an apartment, if the furnace went out, I had to get the landlord to fix it. But now, if the furnace goes out, I have to fix it!... hold on, I'm losing the illusion here... why is that good again?"

"Equity," said Jay Harrington, Knight's mortgage broker at First Union. "Just remember, you have equity. And next to the right of every single American (major corporation) to have a say in who gets elected, that's the most sacred thing you can (pretend you) have."
Yes, kids, remember:
Equity
.